Does your business need the best asphalt paving in Woodbridge?
With well over 100,000 residents, Woodbridge is by far the largest suburban community in the city of Vaughan and one of the largest suburban areas in the Greater Toronto Area (GTA) overall.
If your company is located around the Woodbridge area, you have an enormous opportunity to earn support from many potential customers who have yet to discover your business.
Unfortunately, there are plenty of other Woodbridge businesses vying for their support as well. To gain a competitive edge and position your business as the best possible option, consider investing in high-quality asphalt paving services.
Empire Paving has been regarded as one of Woodbridge's premier asphalt paving companies since 1976.
Thanks to our experienced management team, capable crew, and full fleet of equipment, there is no asphalt paving project we are unable to handle—small or large. We guarantee the best asphalt paving services in the GTA at a fair price.
We currently offer the following Woodbridge paving services:
Asphalt paving in Woodbridge
Commercial paving in Woodbridge
Industrial paving in Woodbridge
Institutional paving in Woodbridge
Residential paving in Woodbridge
Driveway paving in Woodbridge
Asphalt maintenance and repairs
Roadway paving
Parking lot paving
Concrete work
Sealcoating and line striping
Contact us today and receive a free estimate for your next Woodbridge paving project!
Get a FREE Paving
Consultation & Estimate
Call Us at 416-644-1444 or simply fill out the form and one of our paving experts will be in touch with you shortly...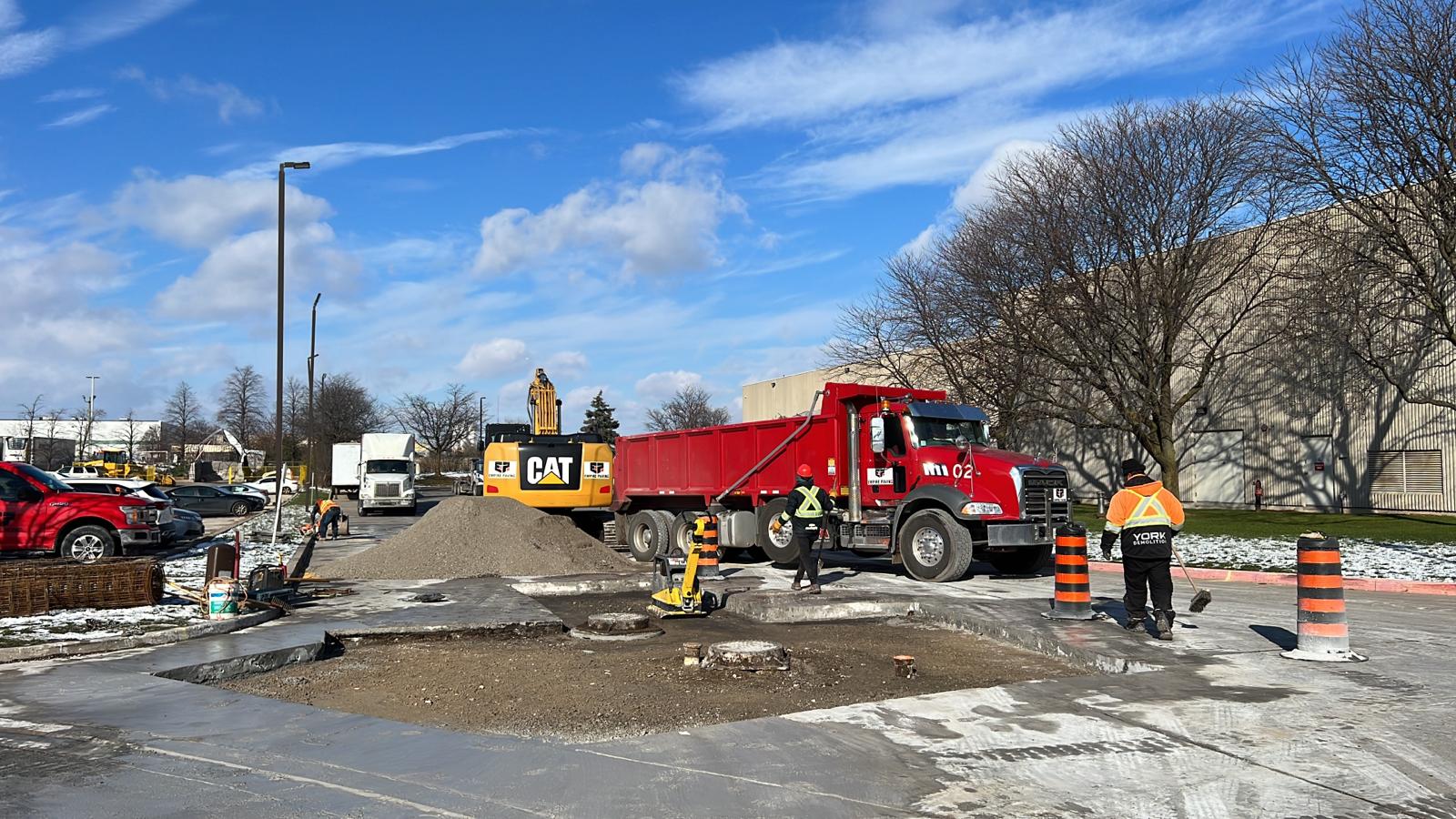 Some Awesome Feedback
John Mutton
"Incredible customer service and infrastructure is on time and on budget."
Some Awesome Feedback
Nicolas Tyers
"Great to work with and they did a good job of resurfacing 40,000 sqft of shopping centre parking lot while maintaining the businesses open."
Some Awesome Feedback
mario pecile
"Empire Paving worked diligently to complete the project properly and quickly. Priority was always to ensure the final product was the very best with no compromise on quality."
Some Awesome Feedback
Jamie Boaden
"Empire and their team is always reliable and ensure the quality of their work is to the highest standards. No matter what issues have arose during our projects together, they were always responsive and willing to work with us to resolution."
Some Awesome Feedback
Sam A.
" The Empire Paving team did an excellent job at our facility this summer. The team was very professional, and their equipment fleet was very impressive. They repaved our entire driveway and parking lot over two phases. They were able to work around our production schedule, and ensured that we had no operational disruptions. This project has really refreshed the look of our facility. I would highly recommend Empire Paving for any paving related projects."
Some Awesome Feedback
AUDI M
" Absolutely 💯 recommended. The crew was on time, well organized, knowledgeable and experienced. They were prepared, very polite friendly and professional. No disruption to neighbors, job was well done, they cleaned up sidewalk and even the roadway. I was totally impressed. Well done Luciano and crew, thank you very much!"
Some Awesome Feedback
Colin Templeton
"Incredible job on 2 of my driveways and concrete work. Can 't say enough. Between Luciano and all the great guys at Empire Paving…great job…great outfit…great service! Thanks guys!!"
Some Awesome Feedback
D. Ross Thompson
"from the initial point of contact for the contract, Vince and his team were very professional to deal with. They provided the quote and came in right on budget. His team absolutely knocked it out of the park. Professional, on time, complied with all QHSE requirements of a major oil company and the job task they performed was perfect. I have contacted the team for additional bids and will utilize them for all of out paving requirements. Highly recommend this company as you will not be disappointed."
Some Awesome Feedback
Jon P
" Fast, professional, friendly, and did a great job! Highly recommended."