Frequently Asked Questions
1.

How long does it take to get a quote?

Yes, all equipment we use is owned and operated by our team.
2.

How long does it take to get a quote?

It usually takes 1-3 business days for us to give a quote.
3.

How long is the paving going to last?

There are a few things that can affect how long your paving lasts such as the weather and the stability of the base but usually paving stays in good condition between 7-10 years before some maintenance is required.
4.

What areas do you service?

Our service area is Barrie, to Oshawa to Oakville and everything in between!
5.

Do you do driveways?

Yes, as of recently we do regular as well as larger residential driveways
6.

How do you ensure quality control?

The quality of our is extremely important to us. In order to ensure that our customers get the very best products, we only purchase asphalt from reliable, reputable and experienced suppliers. Our suppliers' asphalt is often used for municipal projects , where quality is highly scrutinized.
7.

Do you offer a warranty?

We do! We offer a 1 year warranty on all of our projects.
8.

What is the difference between resurfacing and sealcoating my driveway?

Resurfacing is the process of adding a whole new layer of asphalt over existing pavement, whereas sealcoating is the process of adding a thin protective layer of liquid over your asphalt to help safeguard it against the chemicals, moisture, and UV rays.
9.

What are the benefits of having a concrete paved area?

Some customers prefer concrete to asphalt as a paving solution. While it is typically more expensive than asphalt, concrete provides a different look, requires less maintenance, and tends to outlive asphalt surfaces.
10.

What should I do to help prevent the edges of my driveway from cracking?

Maintenance is the key to maximizing the life of your driveway. Particularly at the edges, it's important that you keep your surface tidy and invest in proper landscaping. You may even want to consider adding a border to help stabilize your pavement.
11.

What is included with the work?

To start, we provide you with a free quote outlining the scope of work for your project and its total cost. As we own our own large fleet of vehicles and machinery, we are able to handle all elements of the project—from preparing the area to laying the subgrade to applying the asphalt or concrete mixture. We even return for commercial/industrial projects to provide finishing touches as required.
12.

How long do asphalt parking lots last?

Asphalt parking lots should last for a minimum of 10 – 15 years. However, they can last up to 30 years, depending on the climate where you live, the amount of traffic your asphalt sees, and how well you maintain your asphalt parking lot over the journey.
13.

When should I resurface my parking lot?

When you've noticed that the top layer of your surface is showing signs of wear and tear but your subgrade remains stable, you might consider resurfacing your parking lot as opposed to making normal repairs.
14.

What exactly is concrete?

Concrete is a common paving mixture that is made up of water, aggregate, and cement. While these are the essential components of concrete, aggregate types differ from mixture to mixture. One mixture may use rock, while another might use sand or gravel.
15.

Does concrete require maintenance?

Yes. Like any paving material, concrete requires maintenance—albeit less than what asphalt requires—in order to maximize its lifespan. Beyond keeping it clean and tidy, you may also need to remove stains, apply sealers, and perform the occasional repair.
16.

How long after asphalt paving is completed can I drive on it?

After new asphalt has been paved, it's recommended that you wait at least 24 hours and up to 72 hours before allowing traffic. Weather also plays a role in how quickly your asphalt cures. High temperatures delay the drying process in many cases.
17.

Why should I consider asphalt paving instead of concrete paving for my driveway?

While concrete tends to have a longer lifespan, asphalt is significantly more affordable, it cures faster, and it is easier to repair.
18.

What type of maintenance does asphalt require?

It's recommended that you clean debris from your asphalt regularly and make repairs whenever you notice cracks and potholes. This will prevent more costly repairs down the road and maximize the lifespan of your asphalt.
19.

Are there any additional or "hidden" fees?

At Empire Paving, we believe in honesty and transparency. We do our best to provide you with an accurate quote upfront, so that you don't have to anticipate paying additional or hidden fees after the job has been completed.
20.

What do I need to do when an asphalt contractor comes to do the paving?

When your asphalt contractor arrives on site, it's important that you fully understand the paving schedule so that you can prepare for any downtime affecting your business. Also, make sure that there are no vehicles or objects inhibiting the area that is to be paved.
21.

How long should I stay off the new asphalt?

It's recommended that you stay off your new asphalt surface for a minimum of one to two days and up to three days after it has been paved.
22.

Can you repair my existing driveway?

At Empire Paving, we specialize in not only commercial asphalt paving but also maintenance and repairs. If your GTA business needs asphalt repair work, rest assured that our knowledgeable and experienced team will be able to restore it to top condition.
23.

When and where should cold mix or hot mix asphalt be used?

Hot mix asphalt is used on most large paving projects, as it is stronger and more durable than cold mix asphalt. Cold mix asphalt, while more affordable, is typically regarded as only a temporary solution. It is significantly weaker and less durable than hot mix asphalt and usually lasts for only a season or two.
24.

Why is asphalt paving done in the summer months?

In the winter, asphalt cures faster, leaving contractors little time to finish the asphalt surface. Often this produces small bumps and ridges in the asphalt. In the summer, on the other hand, asphalt takes longer to set, giving contractors the required timeline for a best outcome.
Get a FREE Paving
Consultation & Estimate
Call Us at 416-644-1444 or simply fill out the form and one of our paving experts will be in touch with you shortly...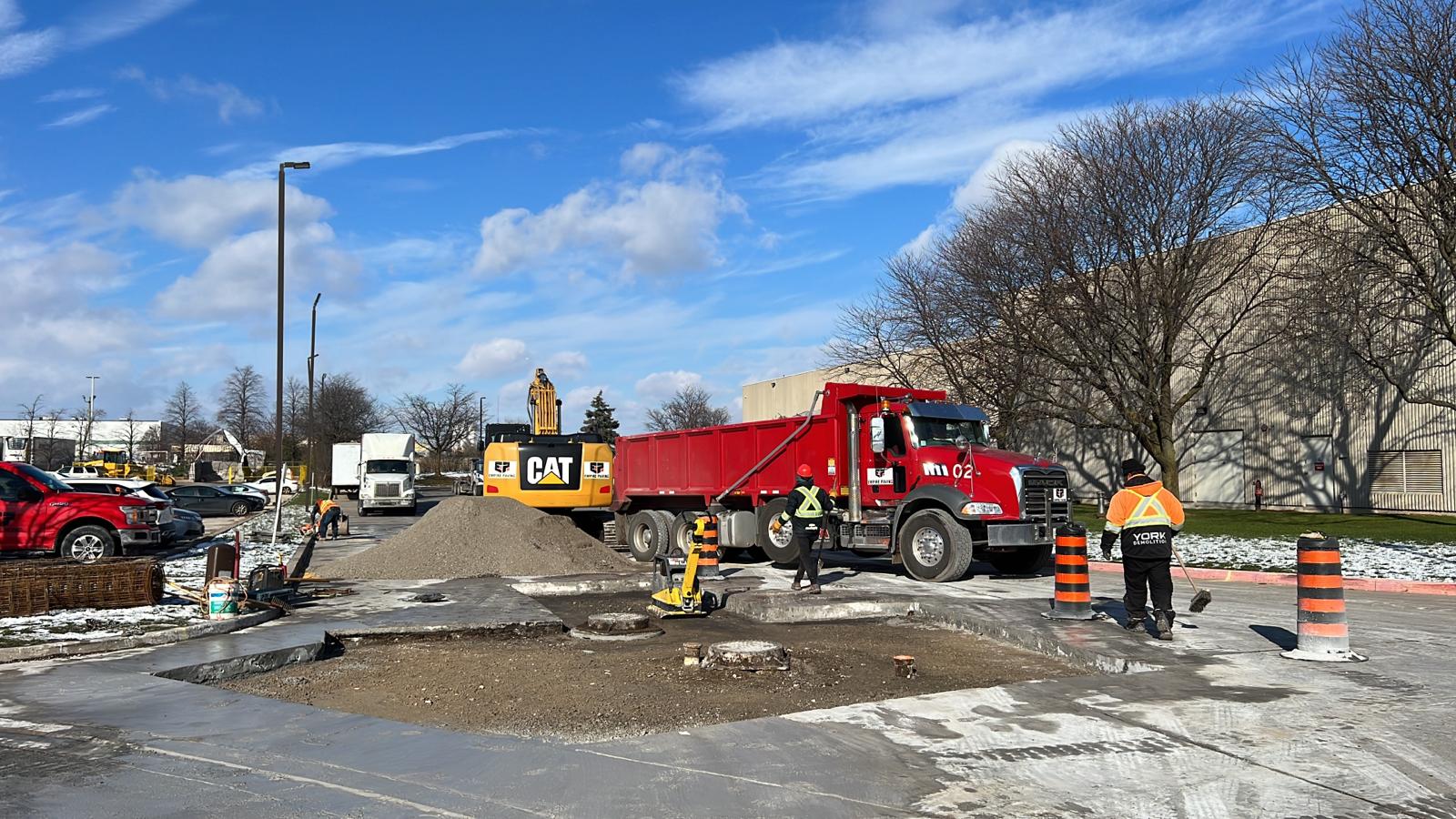 Some Awesome Feedback
John Mutton
"Incredible customer service and infrastructure is on time and on budget."
Some Awesome Feedback
Nicolas Tyers
"Great to work with and they did a good job of resurfacing 40,000 sqft of shopping centre parking lot while maintaining the businesses open."
Some Awesome Feedback
mario pecile
"Empire Paving worked diligently to complete the project properly and quickly. Priority was always to ensure the final product was the very best with no compromise on quality."
Some Awesome Feedback
Jamie Boaden
"Empire and their team is always reliable and ensure the quality of their work is to the highest standards. No matter what issues have arose during our projects together, they were always responsive and willing to work with us to resolution."
Some Awesome Feedback
Sam A.
" The Empire Paving team did an excellent job at our facility this summer. The team was very professional, and their equipment fleet was very impressive. They repaved our entire driveway and parking lot over two phases. They were able to work around our production schedule, and ensured that we had no operational disruptions. This project has really refreshed the look of our facility. I would highly recommend Empire Paving for any paving related projects."
Some Awesome Feedback
AUDI M
" Absolutely 💯 recommended. The crew was on time, well organized, knowledgeable and experienced. They were prepared, very polite friendly and professional. No disruption to neighbors, job was well done, they cleaned up sidewalk and even the roadway. I was totally impressed. Well done Luciano and crew, thank you very much!"
Some Awesome Feedback
Colin Templeton
"Incredible job on 2 of my driveways and concrete work. Can 't say enough. Between Luciano and all the great guys at Empire Paving…great job…great outfit…great service! Thanks guys!!"
Some Awesome Feedback
D. Ross Thompson
"from the initial point of contact for the contract, Vince and his team were very professional to deal with. They provided the quote and came in right on budget. His team absolutely knocked it out of the park. Professional, on time, complied with all QHSE requirements of a major oil company and the job task they performed was perfect. I have contacted the team for additional bids and will utilize them for all of out paving requirements. Highly recommend this company as you will not be disappointed."
Some Awesome Feedback
Jon P
" Fast, professional, friendly, and did a great job! Highly recommended."